Design Study: Anatomy of a Bedroom
Sometimes I find myself admiring my favorite rooms over and over and just the other day I think I realized why. There are a few similarities between those rooms that make them so balanced and perfect. Not only does style, texture, use of color and patterns play a huge role in the look of a room, I find the overall scale of the pieces composing that space does, too. This is why we thought to bring you a Design Study on the Anatomy of a Bedroom. Simply put, we'll show you our tips and tricks on how we accomplish a "balanced" look for a truly magnificent bedroom vignette. Starting off with the wall where the bed is placed, known to be the focal point of any bedroom, no?
Design Study: Anatomy of a Bedroom
What makes a bedroom vignette memorable? I argue the balance between it's components. The wall where the bed is placed is an important feature of any bedroom, usually what designers illustrate on their design boards (like shown below in one of our designs).
Tip: You want to see the bed as soon as you enter a bedroom, so opt to place it right across from the entry.
Width + Height of Wall
Let's look at a bedroom size of 12' x 14' by 9'. The measurements of the bedroom help determine the appropriate size of the bed. A room this size calls for a queen size bed, two nightstands, bench at the end of the bed, and a dresser. You can try to squeeze in a reading chair in there, too. The space plan below shows the pieces from the design board to scale, helping us visualize the flow of movement in the bedroom.
Measurements (in inches) of the pieces in the design board:
Queen size bed: 64.5"w x 87"d x 58"h
Nightstands: 35 W 21 D 28 H
Table Lamps: 28.75" H
Bench: 58 1/2"w x 20 1/2"d x 21"h
Rug: 7'9" x 9'9"
Dresser / Chest: 47"w x 22"d x 36"h
Round Mirror: 36" round
Nightstands + Table Lamps
More often than not, we spot bedroom designs where the nightstands are way too high or too low for the bed. The ideal height of your nightstand should always be about 2" or 3" inches below the top of the mattress. So how do you calculate this seamlessly? Well, we figured it is best to determine from the start if you'd like a boxspring or not? Knowing this will help you add up the numbers you need and figure out the right height for your nightstand. For example, if you get an 11" inch high mattress, you probably won't be needing a boxspring. If you opt for a boxspring, add up the height values for both the boxspring and mattress.
Let's study our design board. If your bed is 58" high (from base to the top of your headboard), then the height of both nightstand and table lamp combined should be equal to the height of the bed (or 2" - 3" inches less). To us this illustrates the most exquisite and balanced look because as you're looking over at the "bed wall" vignette, your eyes shouldn't really be moving up and down, instead in one swift motion from left to right. Exceptions certainly apply, so just use these tips as a reference. You may see below at the bedroom elevation how this applies to our design board.
How We Do it: If we happen to choose a bed first while designing a bedroom, we divide the height of the bed by two and that should give us an estimate of the heights of both nightstands and table lamps. When you source nightstands and table lamps, the key is to try to find options whose heights combined will be close to the overall height of the bed.
Example: Again, if your bed is 58" high, this means your nightstands and table lamps should be around 26" - 29" high each. We do like if the table lamps are slightly lower than the headboard, though. When we add the heights of the nightstand and table lamp, lets say (28" + 28") we're left with a value of 56". Sure, we're off by 2"inches, but this is completely fine and I'd say, preferred.
Rug
Truthfully, I'm not a very big fan of carpet because I find it is a real big shame to miss the opportunity to add hardwood floors to your space. Some people really do love the idea of a soft and comforting material underfoot in the bedroom, but this can be accomplished with rugs - no need to cover the entire room with carpet. I do understand at times budget is an issue or simply preference, so go ahead and follow your likes :)
The ideal rug size for a queen bed is 8' x 10' or slightly smaller (Kind size bed: 9' x 12'). This illustrates a room where the hardwood is very much visible, though you still get the feel of a soft material underfoot as you get out of bed.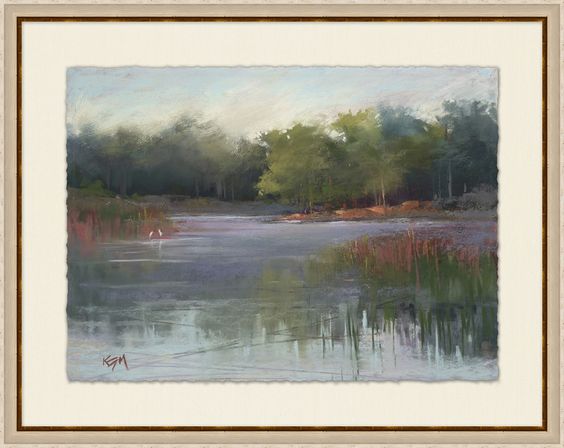 We love the idea of a sophisticated and serene bedroom vignette, and we surely do have our favorite features to hang above a bed. These include art oriented horizontally and convex mirrors. In this Design Study, we used a 6" gap between the bed and our (38.75" x 30.75") artwork, which can be ordered through us.
It takes loads of planning and coordination to design a beautiful and balanced bedroom, yes! Take our tips into consideration when planning out your next space. How was that for our first "Design Study"? We have many more topics of discussion coming soon, so stay tuned.
** Pieces in this Design Study can be ordered through us **